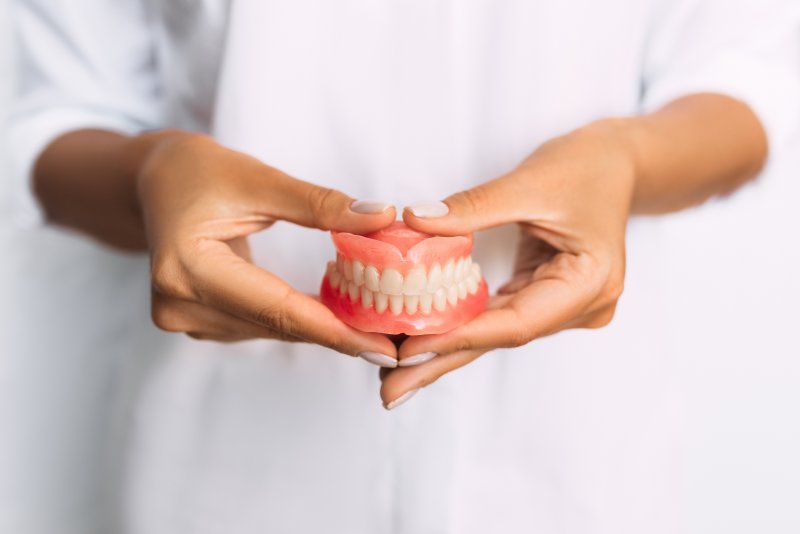 Do you have several or all of your teeth missing? One of the most popular ways to rebuild your smile is with dentures. Once you have your new pearly whites, you'll be able to enjoy eating comfortably, speaking clearly, and smiling confidently again! But how long does it take to start wearing your restorations? Keep reading to learn exactly what you should expect from the entire denture process.
The Initial Appointment
Your procedure may become more extensive depending on several factors, such as if you require tooth extractions. If so, then you'll need to allow your surgical sites to recover completely before going forward with your treatment plan, which can take a few months. If your dentist gives the green light, then they can start your denture process by taking impressions of your mouth. They'll then send these, and maybe a wax mockup as well, to a lab for fabrication.
Follow-Up Visits for Adjustments
Your dentist will call you back in for follow-up appointments to ensure they still have the correct measurements for your bite, including the width, shape, and length of your teeth. This step of the process is crucial, especially since any remaining teeth can begin to shift out of place whenever some are missing. By monitoring your bite, they can make sure the final dentures will fit your bite properly before you even wear them.
Getting Your Final Set of Dentures
Once the dental lab technicians have completed your permanent dentures, you'll return to your dentist's office for their placement. Your dentist will assess how they fit and if you're satisfied with the way they feel in your mouth. Since it'll take some time for you to grow accustomed to your new teeth, your dental team will provide you with advice on best practices for maintaining them, extending their lifespan, and preserving your oral health. Afterward, you'll be able to leave your appointment with a renewed smile!
After-Care Instructions for Dentures
Even after receiving your dentures, you'll likely need to occasionally visit your dentist for routine checkups and adjustments. Your jawbone can begin to deteriorate due to a lack of stimulation from missing teeth. This can cause your other teeth to move out of place and affect how your restorations fit over time. These visits will also help you prevent any developing issues from worsening by having your dentist catch them early on!
If you're missing one, several, or all of your teeth, don't hesitate to consult your dentist about dentures. They'll be more than happy to help you regain your beautiful and healthy smile.
About the Author
Dr. Phillip Sehnert earned his dental doctorate from the Baylor College of Dentistry in Dallas. He regularly seeks continuing education to refine his skills, and he's also a member of several organizations such as the American Dental Association and the Texas Dental Association. He provides a multitude of advanced treatments, including dentures. If you'd like to schedule an initial consultation, visit his website or call 972-420-0042.