Dentures – Lewisville, TX
A High-Quality Solution for Restoring Your Smile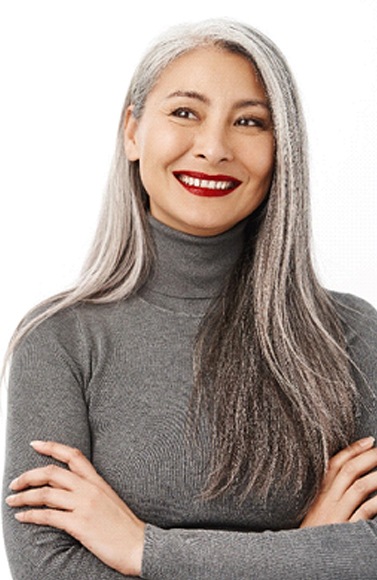 If you're missing a few, most, or all of your teeth, then you probably know how difficult it can be to eat comfortably, speak clearly, and smile confidently. The good news is that you can renew the pearly whites you lost with cost-effective and reliable dental restorations. Our team at Sehnert Precision Dentistry can restore missing teeth with dentures in Lewisville. With this high-quality and durable tooth replacement option, you'll be able to use and show off your full smile again! Read on or give us a call today to learn more.
Why Choose Sehnert Precision Dentistry for Dentures?
Durable, Lifelike & Long-Lasting Dental Restorations
Expert, Caring & Dedicated Dental Staff
Accepts Dental Insurance & Offers CareCredit Financing
Who Is a Good Candidate for Dentures?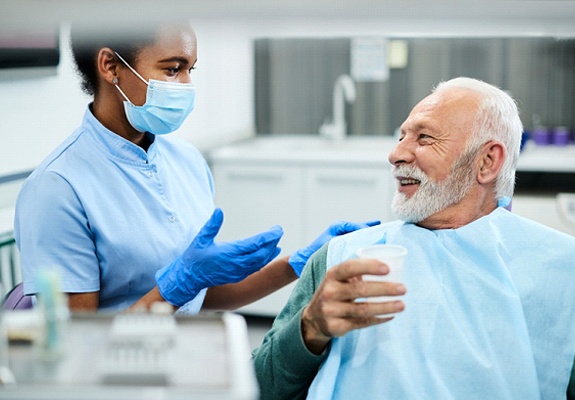 Patients who are struggling with missing several or all of their teeth can most likely benefit from dentures. Our team will develop a detailed treatment plan that is tailored to your specific needs to ensure the best functionality and comfort. We will also evaluate your oral health to check for any developing or underlying oral health issues, such as tooth decay and gum disease. If we detect any concerns, then you'll likely need to undergo preliminary treatments to address them before we can move on to fabricating your dentures. This way you can renew and preserve a healthy smile!
Types of Dentures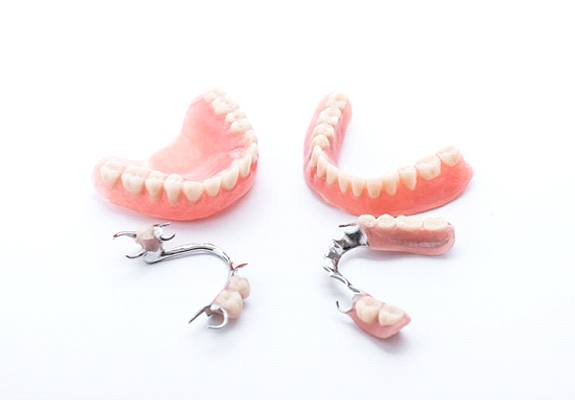 Depending on the location and number of missing teeth, we can offer several various kinds of dentures. Our team will evaluate your smile and determine which of the following options will be best for you:
Partial Dentures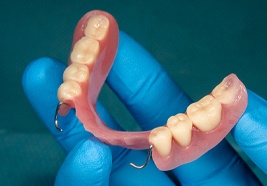 Are you missing several teeth in a row or multiple places? If so, a partial denture may be the ideal solution for your situation. Not only can it replace teeth on opposite sides of your mouth, but it can also prevent adjacent teeth from shifting out of place or closing the gaps. This restoration will be crafted based on the impressions we take of your smile, so it should fit perfectly and match seamlessly with the rest of your pearly whites.
Full Dentures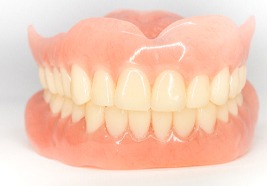 Unlike partials which rely on healthy neighboring teeth for support, full dentures will depend on the shape of your mouth and the suction of the gums. These restorations can replace an entire arch of missing teeth. Both upper and lower dentures will be created with a gum-colored base and have enamel-colored prosthetic teeth, providing a natural-looking solution for your smile.
Implant Dentures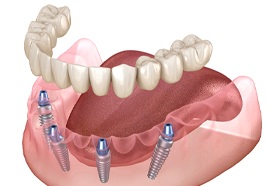 If you're looking for a longer-lasting and more secure tooth replacement option, then dental implant dentures may be your best bet. Instead of relying on nearby teeth or gum suction, these restorations will be directly anchored to your jawbone via titanium posts. Not only will they be much less likely to shift out of place, but they'll also return about 80% or more of your biting power. With proper care, you can even expect them to last you several decades longer than traditional dentures.
The Benefits of Dentures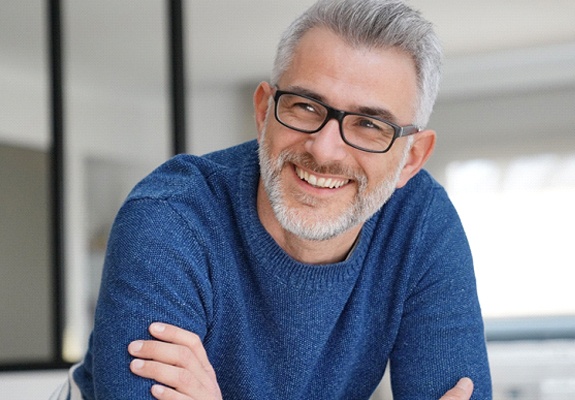 Replacing your missing teeth with dentures can be a life-changing experience. Here are several benefits you'll be able to enjoy from this restoration:
Completely customized tooth replacement
Durable and lifelike dental material
Easy and simple maintenance
Preserves facial muscles
Boosts your confidence
Allows you to eat more comfortably
Can last several years with proper care (or several decades with implant dentures)
Denture FAQs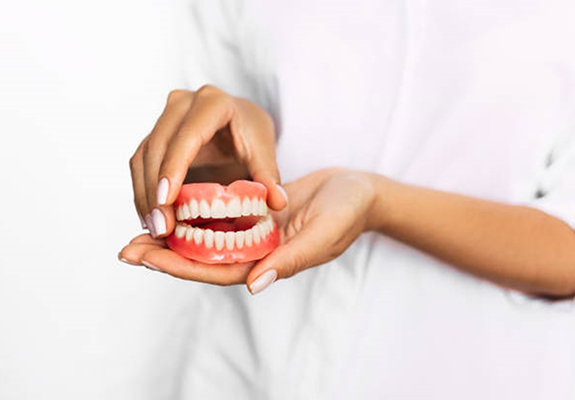 Our team here at Sehnert Precision Dentistry understands the heavy toll that tooth loss can take on your physical and mental wellbeing! Your teeth are an important part of you, so having them replaced is certainly in your best interest; however, you might have several questions concerning restoration options like dentures in Lewisville. For your convenience, we've gathered a few of the most frequently asked questions that we receive about dentures so that you can feel assured about restoring your smile and confidence! If you have any other questions about dentures or would like to schedule a visit, feel free to give us a call for assistance.
Will It Hurt to Get Dentures?
If you need to have teeth extracted prior to receiving dentures, you'll probably experience some mild discomfort following the procedure. However, this pain can often easily be managed by taking your prescribed and over-the-counter pain relievers as instructed, and it typically only lasts for a few days. When you first receive new dentures, some minor irritation might occur as your mouth adjusts to the new appliance. This adjustment period varies from person to person, but it can sometimes take weeks or months. If this pain continues to persist, you should contact us promptly; it could be a sign that your dentures weren't fitted properly, or there might be an underlying oral health issue that necessitates treatment.
Can I Sleep with My Dentures?
When you first receive your dentures, you'll likely be asked to wear it for at least the first 24 hours, including sleep; however, you should be taking it out every evening after that. Wearing dentures restricts the circulation in your gums, which can lead to soft tissue irritation. Taking them out encourages healthy blood flow, and also gives your gums and jaw the chance to rest after supporting them all day. Removing your dentures before bedtime also gives you the perfect opportunity to soak them in a cleaning solution or water, which will keep them clean. The dark, moist spaces underneath dentures is an ideal place for bacteria to thrive; in fact, sleeping with dentures has been found to be associated with a higher risk of pneumonia, among other problems such as higher levels of gum and tongue plaque.
What Can't You Eat with Dentures?
Even though they effectively replace lost teeth, dentures are also accompanied by certain dietary restrictions that need to be followed closely. Sticky foods like peanut butter, taffy, and other chewy items can pull your dentures out of place. Some foods, such as popcorn, shelled nuts, and even the seeds on certain types of bread are also problematic, as they contain small bits that can become trapped underneath the dentures. Tough meats like steak, pork chops, and other items that require an excessive amount of chewing can also place a lot of unneeded stress on your dentures and gums alike.
Is It Hard to Talk with Dentures?
When you first get your dentures, it'll take some time for you to become accustomed to speaking with them. For the first few weeks, you might talk with a slight lisp or stutter, or muffle certain words. However, as with anything in life, practice makes perfect—you can speed up this adjustment process and master talking with your dentures by reading things out loud whenever you have the chance or practicing conversing with a friend or family member. Also applying a small amount of adhesive can help to stabilize your dentures and make your speech a tad clearer.