Dental Crowns – Lewisville, TX
Protecting Damaged or Decayed Pearly Whites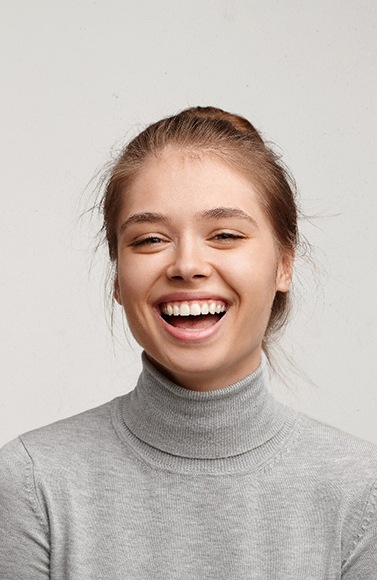 Even if you routinely brush and floss your teeth to avoid cavities, your teeth can still become damaged due to accidental injuries. The good news is, if your pearly whites have been chipped, cracked, or slightly fractured, our team can provide dental crowns to repair them. These durable and tooth-colored restorations are designed to improve and strengthen the structure of any damaged or decayed teeth, allowing you to enjoy a more comfortable bite in the long run. If you want to know whether this treatment is right for you, feel free to continue reading or call our office today to schedule your consultation.
Why Choose Sehnert Precision Dentistry for Dental Crowns?
Completely Personalized, Porcelain Restorations
Natural-Looking & Durable Results
Highly-Experience Dental Team
What Is a Dental Crown?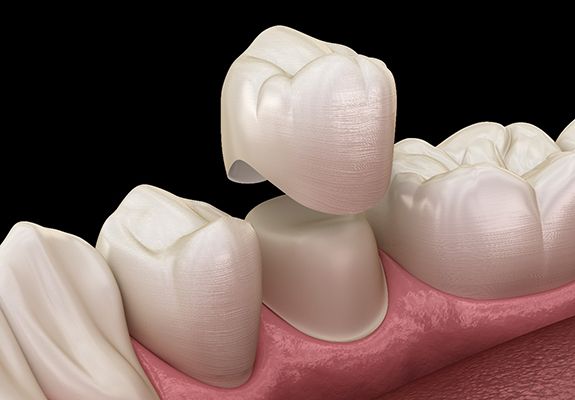 Dental crowns are custom-made "caps" that are placed over teeth that have been severely damaged or decayed. While our team uses porcelain to construct these restorations, they can sometimes be made out of other effective materials, such as silver, alloy, gold, and ceramic. This treatment is best used for patients who have significant damage to their teeth, like chips, cracks, or fractures. By placing this cap over a tooth, you'll be able to continue using it while avoiding more costly treatments such as root canal therapy or an extraction.
The Dental Crown Process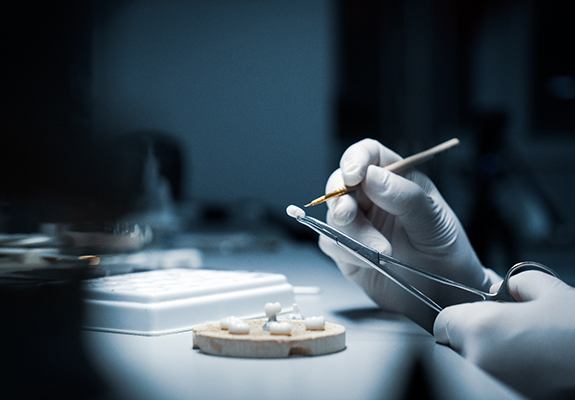 To begin your treatment, you'll first need to undergo an initial consultation with our team to discuss if this option is right for you. We'll look over your situation, assess your oral health, and walk you through the process so you know what to expect. Generally speaking, this procedure can be completed in two visits.
Once we've decided that dental crowns are a good solution for your smile, we can begin removing a thin layer of enamel to make room for a proper fit. After preparing your teeth, our team will take impressions of your mouth and send them to a trusted dental lab for construction. You'll need to wear temporary crowns to keep your teeth safe while we wait for your permanent dental caps.
After receiving your final restorations, we'll call you back to our office so we can place your dental crowns. You'll be free to ask any questions and we'll verify that you're satisfied with your results before sending you on your way to enjoy your healthy smile!
The Benefits of Getting a Dental Crown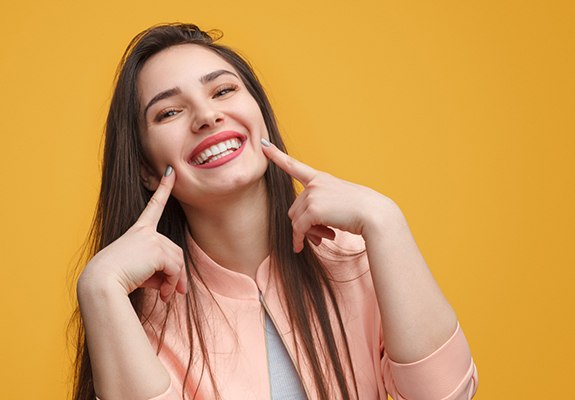 Dental crowns are one of the most popular ways to improve and restore a person's teeth. You can expect to appreciate multiple advantages, including:
Reduced chance of developing dental complications later on
Preserve natural teeth to avoid needing extraction
Increased comfort and improved ability to chew
Restoration blends seamlessly with the rest of your smile
Results can last around 10 years or more with proper care
Understanding the Cost of Dental Crowns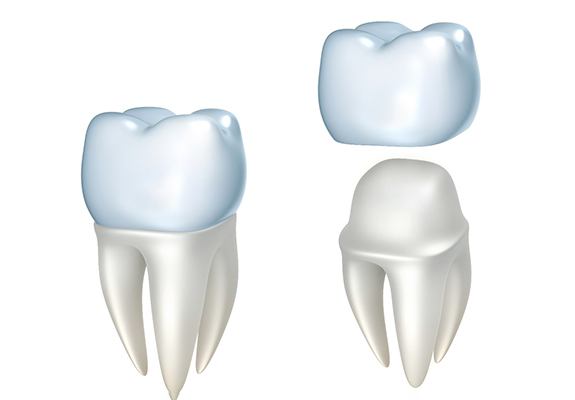 Dental crowns look lots of different ways for different people depending on their particular needs. While that is what gives this treatment its versatility, it also makes it difficult to pin down the cost of a dental crown without knowing more about what it is that's necessary for you.
That said, we try to be as transparent as possible about the price of care, and we'll give you an estimate of the cost of care before meeting you in person. Until then, here's what you should know about the price of this treatment.
Factors that Affect the Cost of Dental Crowns
As we hinted at before, there are several variables to consider when trying to price out a dental crown. The first is whether your tooth needs to be treated via a root canal or other kind of procedure. You also need to consider what you want your dental crown to be made of—metal is cheap but lacks in aesthetics, while ceramic can much more accurately emulate a real tooth.
It's important to remember that you're looking for a long-term restoration, and you won't be best served by defaulting to the cheapest option. We'll talk with you extensively about how you can effectively balance cost with results.
Does Dental Insurance Cover Dental Crowns?
Dental crowns are a major restorative treatment used to deal with serious oral health problems. As a result, most dental plans will be happy to cover them if they're determined to be medically necessary. Of course, every plan is different, and we'll work with your provider to determine what's possible for you.
Other Options for Making Dental Crowns Affordable
Even if you're under- or uninsured, you should be able to get the care that you need. For one, we have an in-house membership plan through Kleer. For an annual fee, you can enjoy a discount on all kinds of services from us.
We also offer financing through CareCredit, which can allow you to break the cost of care into monthly installments that can be much more manageable.
If you're in need of a dental crown, you don't have to forgo care for financial reasons. We'll do everything that we can to make care affordable.
Dental Crown FAQs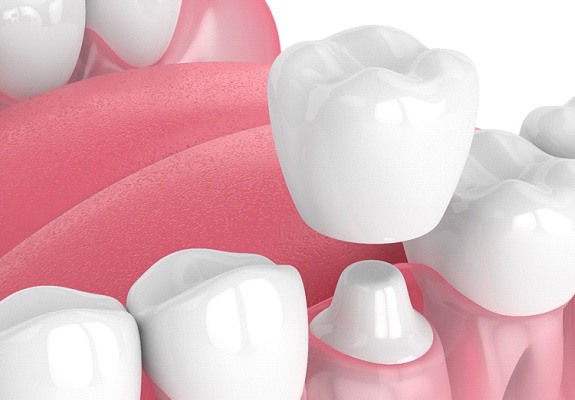 When a tooth is damaged and needs a crown, you shouldn't waste any time in having it restored. That being said, before we begin the treatment, we ask that you please let us know if you have any questions. It's important to understand exactly what getting a dental crown means for your smile. Below are the answers to a few questions that we find are brought up quite often by patients having crowns placed for the first time.
Are Dental Crowns Permanent?
No matter what kind of material your crown is made of, it won't last forever. However, you may be able to keep it for 15 years or longer. Proper oral hygiene habits, routine dental visits, and the use of a mouthguard can all help extend the life of a crown.
But while crowns aren't permanent, the preparations made before placing them are. Any enamel taken off the tooth to make room for a crown won't grow back later. Consequently, once your crown has reached the end of its lifespan, a new one will have to be placed in order to keep the tooth safe.
How Do You Know When a Dental Crown Needs to Be Replaced?
You may need a new crown if:
Your current crown has come loose.
The tooth underneath the current crown hurts.
You have noticed chips, stains, and other flaws on the current crown.
If you're not sure whether a crown has to be replaced, you can always schedule an appointment at our office to get an opinion from a dental expert. If you do need a new restoration, then you don't want to wait too long to get one.
Do Dental Crowns Get Cavities?
No, dental crowns cannot get cavities. That said, they won't necessarily prevent cavities from forming on the teeth they're covering. So when you're brushing and flossing, make sure you clean the crown as well as the gum tissue around it. Pay close attention to your gumline; the bacteria in this area could easily travel underneath the crown if given the opportunity. When you visit our office for a preventive checkup, we can remove any plaque or tartar that has built up on or near the crown.
Is It a Dental Emergency If Your Crown Falls Off?
Losing a crown may not be the kind of emergency that necessarily calls for a same-day appointment, but it's also not something you should ignore for too long. The exposed tooth will be more likely to break or suffer from decay until it is properly covered again.
It should be noted that a lost crown could be considered an urgent problem if the tooth it was covering has particularly sharp edges. If you don't get a professional's help soon, your soft oral tissues could be at risk. Keep the rest of your mouth safe by covering a sharp tooth with dental wax or sugarless gum.