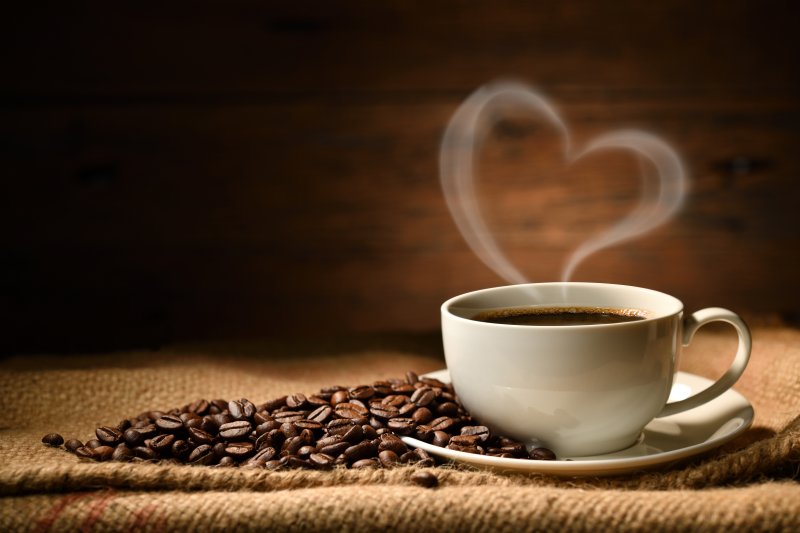 As of this month, the U.S. has entered the fall season. That means lower temperatures, back-to-school shopping, and the return of Pumpkin Spice Lattes. Speaking of lattes, in fact, the seasonal shift also means the arrival of National Coffee Day! On September 29th, many of us will have a chance to celebrate one of our favorite drinks. However, it would be best to remember that coffee isn't always great for teeth. Here are some ways to protect your smile even as you honor your java.
Coffee Can Harm Dental Health
While you might love your daily cup of joe, it can hurt your pearly whites if you aren't careful.
For one thing, coffee is known to stain teeth. The beverage has tannins that attract proteins, sugars, and other materials that discolor enamel. Therefore, drinking it too much can make your smile yellow over time.
Perhaps more importantly, coffee increases your risk of cavities. Being naturally acidic, it can soften and break down tooth enamel. The drink also helps bacteria produce its own enamel-eroding acids.
Tooth Care Tips for Coffee Drinkers
Fortunately, you can keep your smile healthy even while you get your coffee-fix. Consider the tips below:
Don't Sip All Day
As you might imagine, coffee will affect your teeth more if you sip it over many hours. Therefore, try to drink it at set times instead. You could have java with your morning breakfast or during your afternoon break.
Skip the Cream & Sugar
Coffee itself can taste bitter, so many people put cream and sugar in the beverage. However, these add-ons can speed up the growth of bacterial acids that wear enamel. That being the case, you might want to cut them out of your future coffee breaks.
Drink Plenty of Water
Coffee can lead to dry mouth, increasing your risk for gum disease. As such, follow up your daily cup with a good drink of water. It'll keep your teeth and gums healthy and even freshen your breath!
Brush or Rinse Afterward
To minimize possible staining, brush your teeth or rinse your mouth after having coffee. You'll want the acids in your mouth to neutralize first, though, so wait at least 30 minutes after finishing your cup of joe.
You don't have to choose between a white smile and the fun of National Coffee Day. Remember the tips above, and you'll enjoy the best of both worlds!
About the Practice
Sehnert Precision Dentistry is based in Lewisville, TX. As led by Dr. Phillip Sehnert, the practice offers patients quality, long-lasting dental care. To that end, its staff performs preventive, cosmetic, and restorative dentistry, as well as emergency procedures. The staff is also qualified to provide dental sedation when necessary. For more information or to book an appointment, you can reach them at their website or by phone at (972)-420-0042.