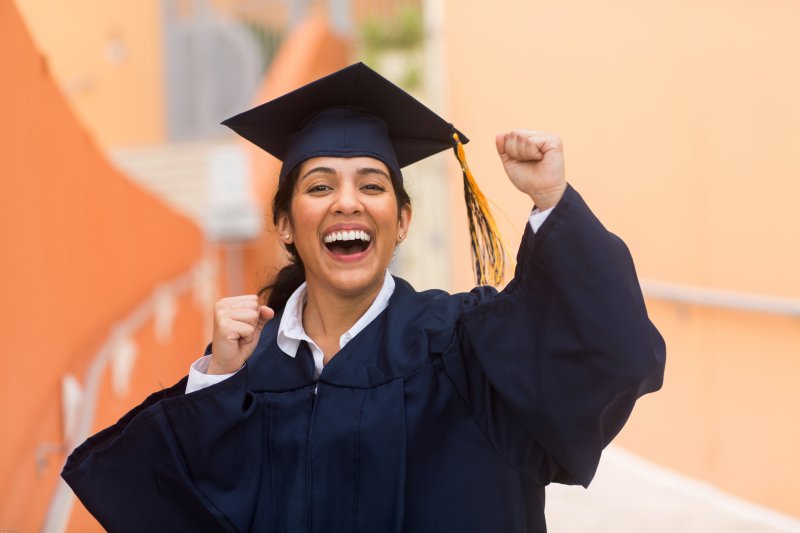 As graduation day approaches, it's only natural for your high school or college student to want to look and feel their best, both in person and in the photographs that will capture these memorable moments. One aspect that can significantly impact their overall appearance is their smile. Thanks to cosmetic dentistry, you can help your graduating student achieve the look of their dreams. Read on to learn which cosmetic dental treatments will give them a winning smile that they can use during and after their ceremony!
Veneers
Veneers are thin custom-made shells that are bonded to the front surface of the teeth, improving their appearance. These porcelain or composite resin sheaths can help create a straighter, whiter, and more uniform smile, giving your loved one a picture-perfect look for graduation day and beyond. Whether your student has chipped, misaligned, or stained teeth, veneers can transform their smile dramatically. Best of all, this option is long-lasting and requires minimal alteration of the natural teeth!
Dental Bonding
Dental bonding is a versatile and cost-effective solution that can address multiple dental issues. It involves applying a tooth-colored resin material to the natural teeth and shaping it to enhance their appearance. This cosmetic dental treatment is an excellent way to repair chipped or cracked teeth, close small gaps, and improve tooth shape and color. It's also non-invasive and can often be completed in a single visit, making it an ideal choice for busy graduating students looking to quickly enhance their smiles.
SureSmile Clear Aligners
If misaligned teeth or bite issues are causing concern, SureSmile clear aligners can help your graduating student discreetly achieve a straighter smile! These virtually invisible plastic trays gradually shift the teeth into proper alignment, without the need for traditional braces. Your high schooler or college student doesn't have to worry about sporting a mouth full of metal wires and brackets as they walk across the stage!
Since the clear aligners are removable, they allow your loved one to enjoy their favorite graduation meals and maintain optimal oral hygiene. They'll be well on their way toward a straighter smile without compromising their appearance. An attractive grin isn't just more aesthetically pleasing – it can also contribute to long-term dental health!
About the Author
Dr. Phillip Sehnert is a proud member of several professional organizations like the Texas Dental Association and the International Team for Implantology. He studied at the Baylor College of Dentistry in Dallas and has been providing patients with exceptional dentistry for nearly four decades. If you'd like to learn more about his cosmetic dentistry services, visit his website or call (972) 420-0042.