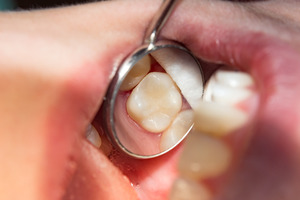 Tooth decay is a threat to your oral health that you should always take very seriously. As such, it's best to have a filling placed to repair any existing cavities as soon as possible. But how will you know whether you need a filling? Your dentist is here to help explain what a filling is and how to recognize the signs that you might need one.
What Exactly is a Filling?
When a tooth has suffered from decay, the damaged part can be removed and replaced with a simple restoration known as a filling. Traditionally, fillings have been made out of silver-colored amalgam or other metals. But in recent years, more and more dentists have made the switch to composite resin fillings, which are much less likely to stand out since they can be shaded to match the color of your enamel.
What are the Signs That You Need a Filling?
Only your dentist can say for sure whether you need a filling, but it may be worth scheduling an appointment if you notice any of the following symptoms:
Sensitivity: A decayed tooth is often especially sensitive to hot and cold foods. You may also experience sensitivity when eating something sweet or sour.
A Visible Hole: Depending on where the cavity is located, you may be able to see it when you check your smile in the mirror. A hole in your tooth definitely warrants a call to your dentist.
Pain: Sometimes decay that has been left alone for too long can cause a throbbing toothache. Also, the tooth in question might hurt whenever you try to chew your food.
Keep in mind that tooth decay doesn't always have obvious symptoms in its early stages, so sometimes you might simply not be able to tell that something's wrong on your own. As such, the most reliable way to know whether you need a filling is to visit your dentist for a checkup.
What is the Process of Getting a Filling?
Having a filling placed usually involves these simple steps:
Your mouth will be numbed to prevent discomfort.
The decayed portions of the tooth will be removed, and the area will be cleaned.
The filling material will be applied to the tooth. If composite resin is used, it will be hardened in place with a special light.
The filling is smoothed out and gently polished.
Having a filling placed could save your tooth from further decay and allow you to avoid a much more severe dental problem. Don't hesitate to contact your dentist if you have any reason to think that a filling might soon be necessary.
About the Author
Dr. Phillip Sehnert has nearly 40 years of dental experience and is proud to be putting his expertise to good use by helping Lewisville patients keep their smiles safe. He belongs to the Texas Dental Association and various other professional organizations. He can treat cavities with tooth-colored fillings that very closely resemble natural enamel. To schedule a consultation with Dr. Sehnert at Sehnert Precision Dentistry, visit his website or call (972) 420-0042.