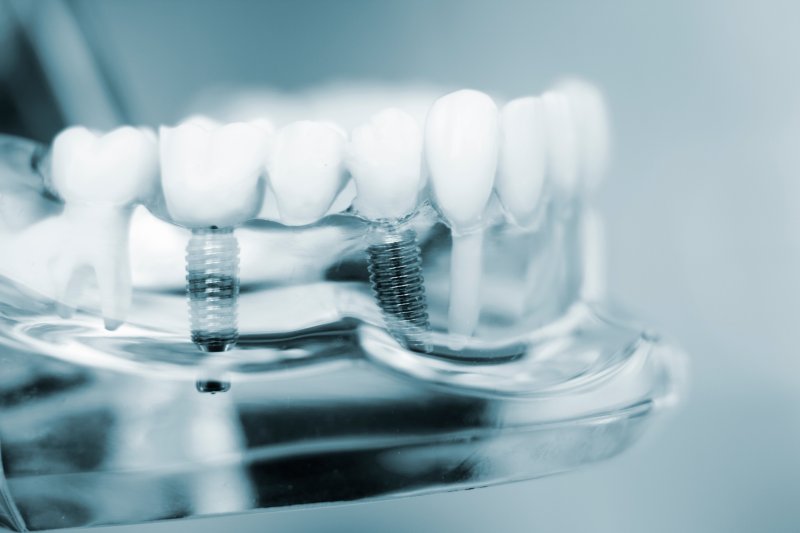 Did you know that dental implants back then used to be made out of bamboo pegs? Fortunately, with modern technology, these restorations are much more durable and natural-looking when restoring smiles. However, even though they're the most effective and popular way to replace missing teeth, there are still misconceptions about the treatment. Read on to learn five facts about dental implants so that you know what to expect!
#1: Dental Implants Can't Get Cavities
Unlike your natural teeth, your restorations will be made out of titanium and non-porous porcelain material. This means your dental implants won't be able to develop cavities. This doesn't mean your surrounding permanent teeth or gums won't be susceptible to disease and decay. To avoid any complications that can cause your implants to fail, you'll need to practice proper oral hygiene every day and visit your dentist every six months for checkups and cleanings.
#2: They Can Be Relatively Low-Cost
While the cost of this treatment may have a higher initial value compared to other options like dentures and dental bridges, it may be more cost-effective in the long run. Not only will your implants restore your full smile, but they'll also preserve your jawbone and prevent facial changes. They can last several decades to a lifetime with proper care, and you won't have to get them replaced as often as other restorations.
#3: You'll Still Need to Watch Your Diet with Dental Implants
Dental implants are famous for helping patients regain 80% or more of their biting power. However, you'll still need to be careful with the foods you eat, as they won't be indestructible. Try avoiding munching on hard or crunchy meals that can damage the surface of your new teeth. Also, make sure to refrain from poor oral habits like smoking, biting your fingernails, and using teeth as tools.
#4: They Have a Success Rate of 95%
This tooth-replacement option boasts a success rate of 95% or more even 10 years after being placed. Along with using advanced techniques and technology, dental teams will perform a thorough initial examination to ensure that patients are good candidates before starting the procedure. This will increase your chances of having a more successful treatment.
#5: Dental Implants Can Restore Your Smile & Confidence
Although dental implants are considered a restorative treatment, it's easy to see their cosmetic benefits. On top of looking exactly like the rest of your natural teeth, replacing missing pearly whites can significantly increase your confidence in the long run. You'll be able to proudly show off your renewed smile for many years to come.
Now that you know some facts about this tooth-replacement option, you can feel more confident about your decision to get them. Feel free to speak with your dentist about dental implants, and they'll be glad to determine if you're eligible for the treatment!
About the Author
Dr. Phillip Sehnert is a member of several groups like the Texas Dental Association and the International Team for Implantology. He studied at the Baylor College of Dentistry in Dallas and has been delivering excellent care for nearly four decades. He offers a wide range of comprehensive and advanced services, including dental implants. If you'd like to schedule a consultation, visit his website or call 972-420-0042.